App Help Center

Documentation and Frequently asked questions for all of our Hootsuite apps.
How can I use Google Analytics with oneclick.bio?
| | |
| --- | --- |
| | Synaptive Support |
If you're looking to gain more insight into where your users are clicking on your oneclick.bio pages, Google Analytics is what you need.
Already using Google Analytics?
If you're already using Google Analytics, click the settings icon

, and enter the Google Analytics tracking ID you want to use with each of your Instagram accounts. (NOTE: they can be different tracking IDs, if you choose)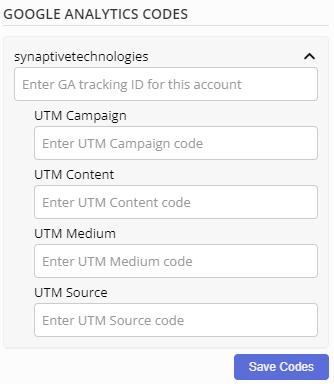 You can also choose to enter UTM tags for Campaign/Content/Medium/Source. Using UTM tags will allow you to track how well your oneclick.bio page is doing. The four basic tags are:
Campaign. Enter the name of the campaign you are running. You may want to change this as you run different campaigns over time. 
Content. Track where your clicks are coming from, e.g. instagram_bio.
Medium. The type of traffic that the visitor is originating from, e.g. social, email.
Source. The source of the click, e.g. oneclick.bio
Not using Google Analytics yet?
If you're not using Google Analytics yet, Google has a great tutorial on how to get going:
https://support.google.com/analytics/answer/1008015?hl=en
When you get to the section on setting up a property, you will be taken to the following page to create your first property:
https://support.google.com/analytics/answer/10269537
After you have created your property, the page below will be displayed. The Tracking ID, in this case UA-64282345-10, is what you want to enter in the GA tracking ID input box on oneclick.bio.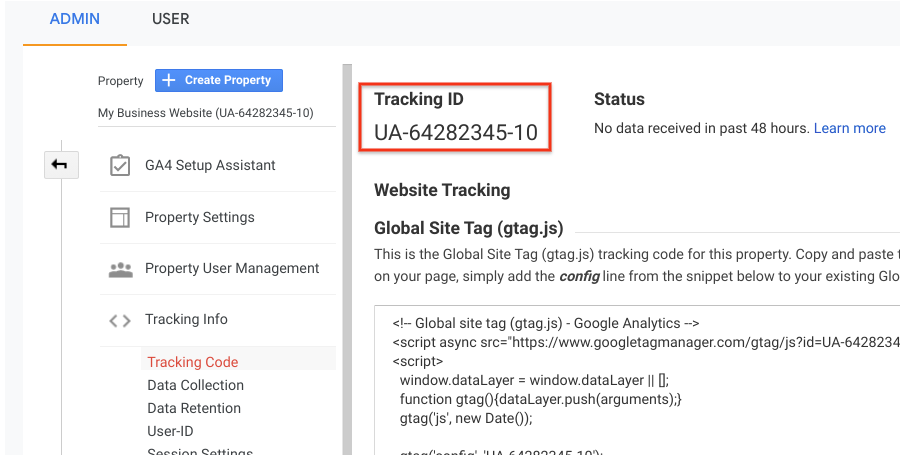 Questions? Feel free to contact us on: https://www.synaptive.com/contact-us
Still have questions?
Click the Contact button below, and our support team will be happy to help!
Contact Us