Invalid admin access token warning
If you have had the Instagram accounts you use with oneclick.bio shared with you by an administrator from your organization, and you see the following warning: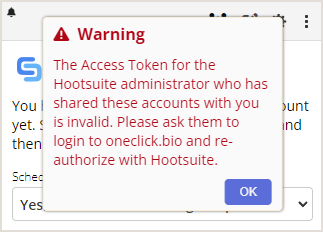 the access token we have for the admin who shared the accounts with you has been invalidated. Please ask the admin to login to oneclick.bio, and re-authorize with Hootsuite -- they will be prompted to do so in the oneclick.bio stream. In this case, you can still use oneclick.bio, however, post scheduling may not function properly. 
If your organization's admin is unable to login, or, your organization's admin has changed, please contact us. 
---
Back to oneclick.bio help
Still have questions?
Click the Contact button below, and our support team will be happy to help!
Contact Us