Panoramiq Insights Quickstart
[NOTE: Panoramiq will only work with Business Instagram Accounts. This is a requirement that Instagram makes, and is the only way in which we can access their APIs on your behalf.]
Getting Started
Panoramiq Insights is a Hootsuite app that allows you to easily analyze and generate reports for your Instagram Accounts.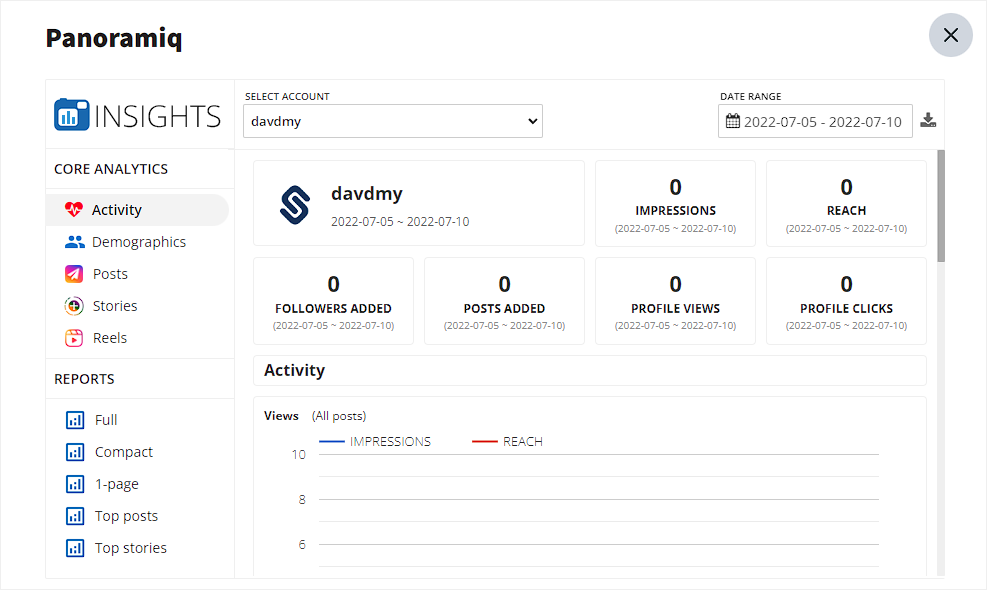 Login and Authentication with Facebook.
Before you can start using Panoramiq, you must authorize Panoramiq to access your Instagram account. After you have added the app to a stream in your Hootsuite dashboard, simply click the Login with Facebook button to get started with authorization: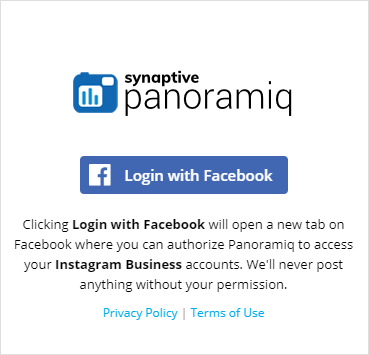 After you have authenticated on Facebook, a popup will be displayed asking you to select the Instagram accounts you would like to use: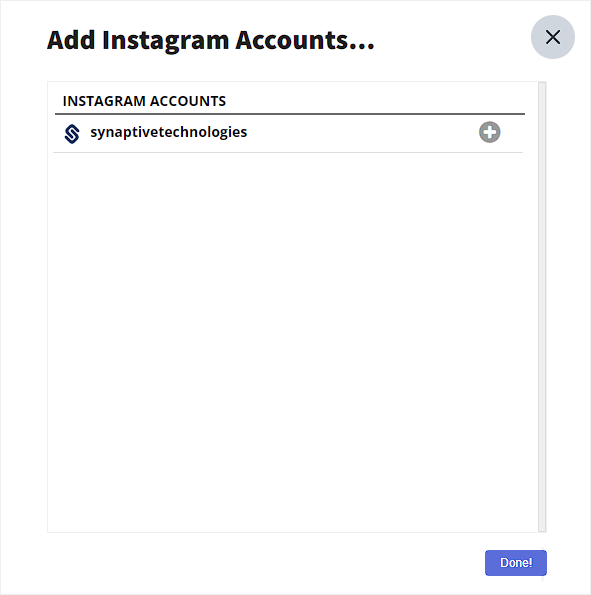 Click the plus sign 

 to the right of the account you would like to use. Once you have selected the account, the popup will automatically close, and the selected account's posts will be displayed in-stream. 
If you would like to add or switch accounts after your initial selection, simply click the Manage Instagram Accounts button in the app's Settings menu. 
Using the App
Menu Options
At the top of the app stream are four options:

 Analytics
Click to view/export charts and reports for your Instagram accounts.

 Search 
Click to filter/sort results that are displayed in this stream.

 Settings 
Select which Instagram accounts you would like analyze, or remove the current Facebook authorization.

 Links
Links to this document, support and Synaptive's website.
Analytics
When you click the Analytics icon, a popup will be displayed from where you can select a variety of reports: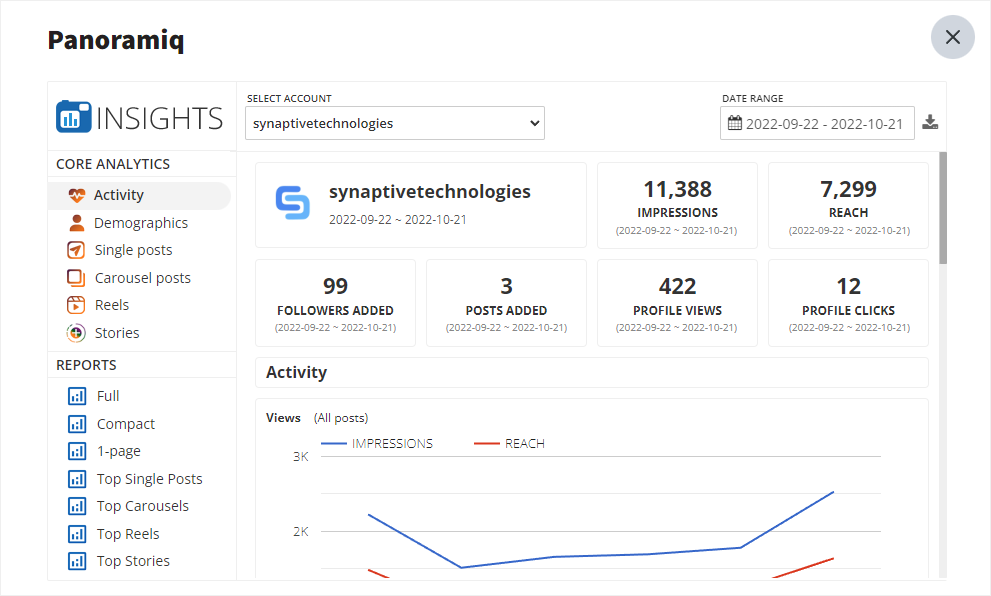 Core Analytics 
The core analytics include the following:
Account analytics includes the current number of followers, the number of posts you've made as well as follower demographics for age/gender, country, city and language. 
Activity analytics includes analytics for post views and post engagement over a period of time.
Single post analytics allows you to analyze your video and image posts from your account's feed to find your best performing posts. NOTE: this does not include analytics for Reels or Carousels. 
Carousel post analytics allows you to analyze your carousel (i.e. posts with more than one image or video) posts from your account's feed to find your best performing carousels. 
Reels analytics allow you to analyze your reels videos to find which are working best. 
Story analytics allows you to analyze your stories to discover what performs best.  NOTE: Due to stories only having a life of 24 hours, we can only get data for stories that are currently active as well as for stories you add in the future. 
All of the analytics can be downloaded in PDF and CSV formats by clicking the download

button in the top right corner of the popup.
Reports
The Reports section contains a variety of reports. Full, Compact and 1-page include all of the Core Analytics. Feed related analytics include cumulative data for Single posts, Carousel posts and Reels. 
Top Single Posts, Top Carousels, Top Reels and Top Stories are reports you can use to focus in on the success of your Posts, Carousels, Reels and Stories respectively. 
Report Options
The analytics popups have a couple of options you can use. The account menu allows you to switch to a different account to generate a report for. Clicking on the calendar

icon allows you to specify a period of time to analyze results for. Clicking the download

 icon allows you to download the report in either PDF or CSV formats. 
Search Options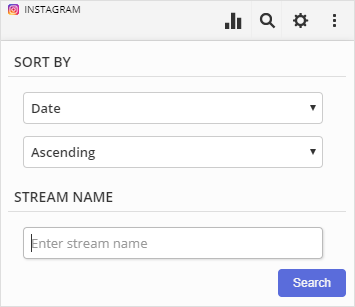 Search options allows you to filter/sort what you see in-stream. You can choose to view your media sorted by Date, Number of Likes, Number of Comments, Total Engagement (Likes + Comments) or Number of Views. You can also choose to sort the results in ascending order, i.e. from lowest to highest, or in descending order, i.e. from highest to lowest. 
You can also specify a Stream Name that will be displayed in the app's menubar. 
In-stream Options
Once you have your stream setup, and your posts are being displayed, there are a variety of in-stream options which you can use: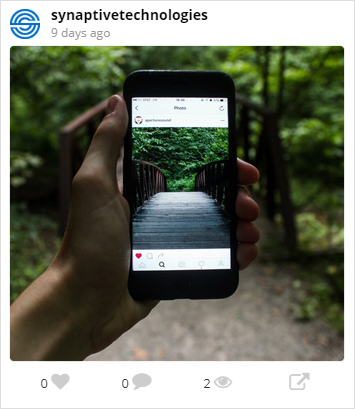 Clicking your username will open up a new browser tab on Instagram displaying your Instagram account. Clicking on the time will open this particular post on Instagram.
At the bottom of each item, there are four icons:

Starting on the left side, the first three icons display results for number of likes, number of comments and number of views in that order. The fourth icon is the external link
 icon. Click it to open this post on Instagram. 
Questions? 
Have more questions? Feel free to contact us via our support site. 
Still have questions?
Click the Contact button below, and our support team will be happy to help!
Contact us