Synapfeeds allows users of our Autopublisher app to add more than the default 25 feeds that comes with the standard Autopublisher app. Please visit our website for more information regarding the different subscription tiers available. Also, for information regarding how to use Autopublisher please consult the app's documentation.
Getting Started

When you first install the app, the app will notice it's your first time, and start you off on a 30-day free trial. (no credit card required)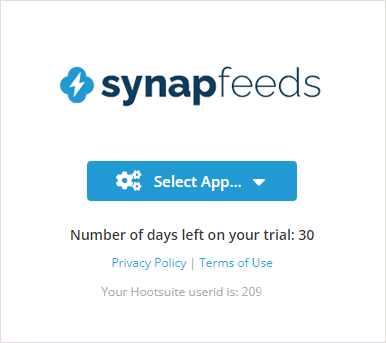 Clicking the Select App button will display a list of the apps you can use. In addition to Autopublisher, you can also use our RSS Syndicator feed reader app. 
Subscribing to a plan
At the end of your 30-day trial, you will be prompted to subscribe to a plan: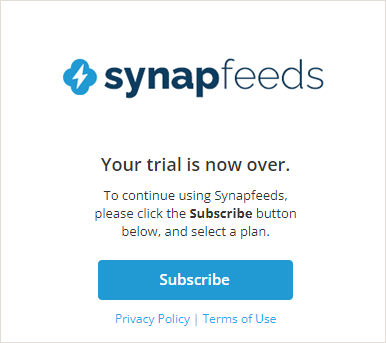 You can also subscribe at any time by selecting the Manage your subscription link from the app's menu. This menu option appears in the main Synapfeeds menu as well as in the Syndicator and Autopublisher apps: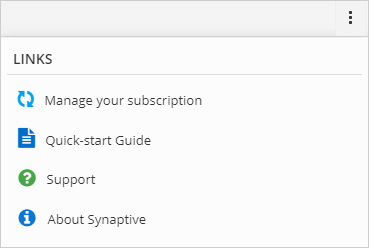 Clicking Subscribe, or selecting Manage your subscription, will display the following popup, where you can select the type of subscription you would like to create: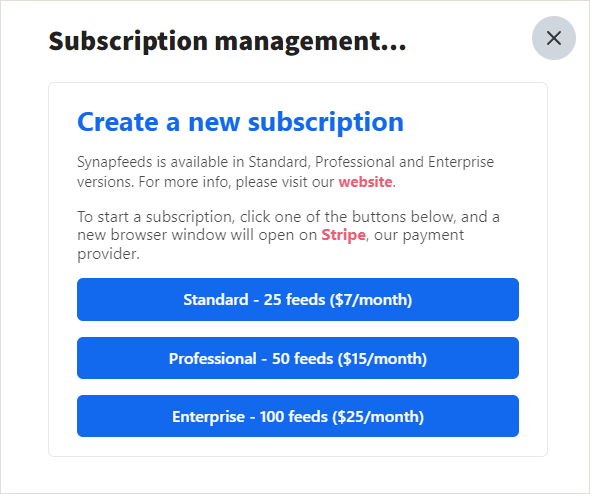 Clicking one of the buttons will open up a new browser tab on Stripe, our payment provider: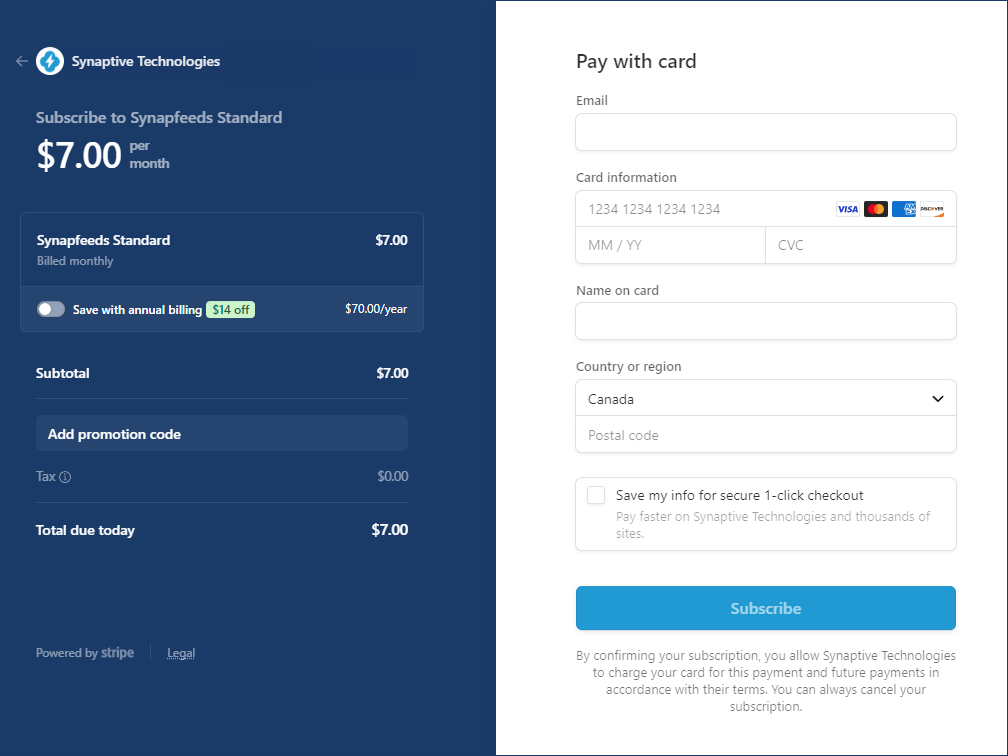 Here, you can select from monthly or yearly payment, and enter your payment information. 
Upgrading/Downgrading/Cancelling
Once you are subscribed, you can upgrade, downgrade or cancel your subscription at any time by clicking the Manage your subscription link in any of the apps. This time, the following popup will be displayed: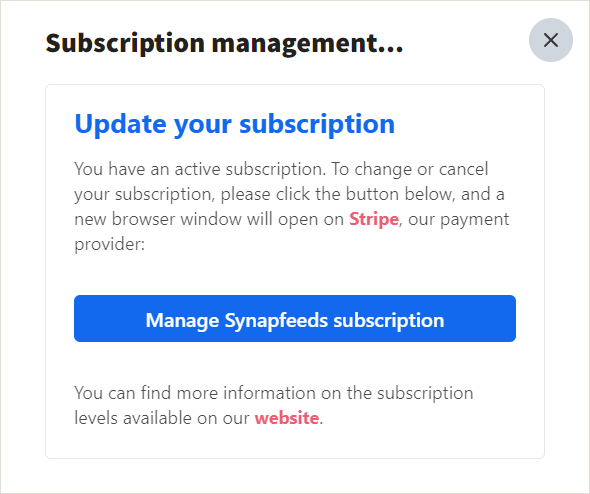 Clicking the Manage Synapfeeds subscription button will open up a new browser tab on Stripe, where you can manage your subscription, including downloading previous invoices: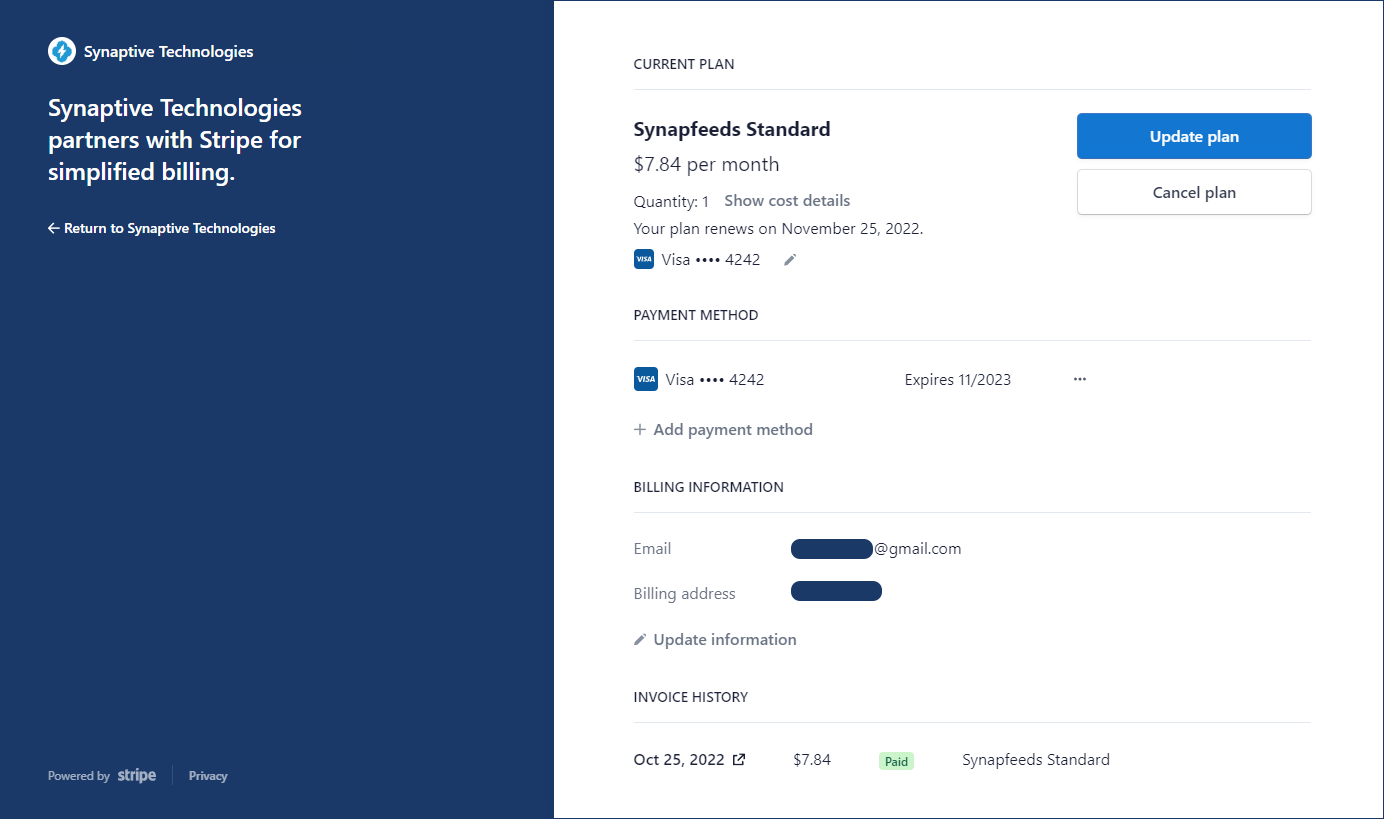 More Questions? Feel free to contact us. 
Still have questions?
Click the Contact button below, and our support team will be happy to help!
Contact us