Introduction
Synaptive Streamnotes for Hootsuite allows you to easily save and export Social Media posts to a variety of services and file formats. Save posts to services such as Evernote, OneNote, Google Sheets, Pocket or tumblr. Or, save as CSV or PDF files. Streamnotes is supported in Hootsuite native streams for Facebook, Twitter, Instagram and YouTube. In addition, Streamnotes can be found in many of Synaptive's own apps. Streamview for Twitter, Streamview for Instagram, Streamview for Youtube as well as our RSS reader app, Hootsuite Syndicator, all have Streamnotes as one of their core features.
Getting Started
1. Adding the app
Click the App Directory puzzle icon in the left menubar in your Hootsuite dashboard. Next, search for Streamnotes. Once you've found it, click on the Install button to install the app.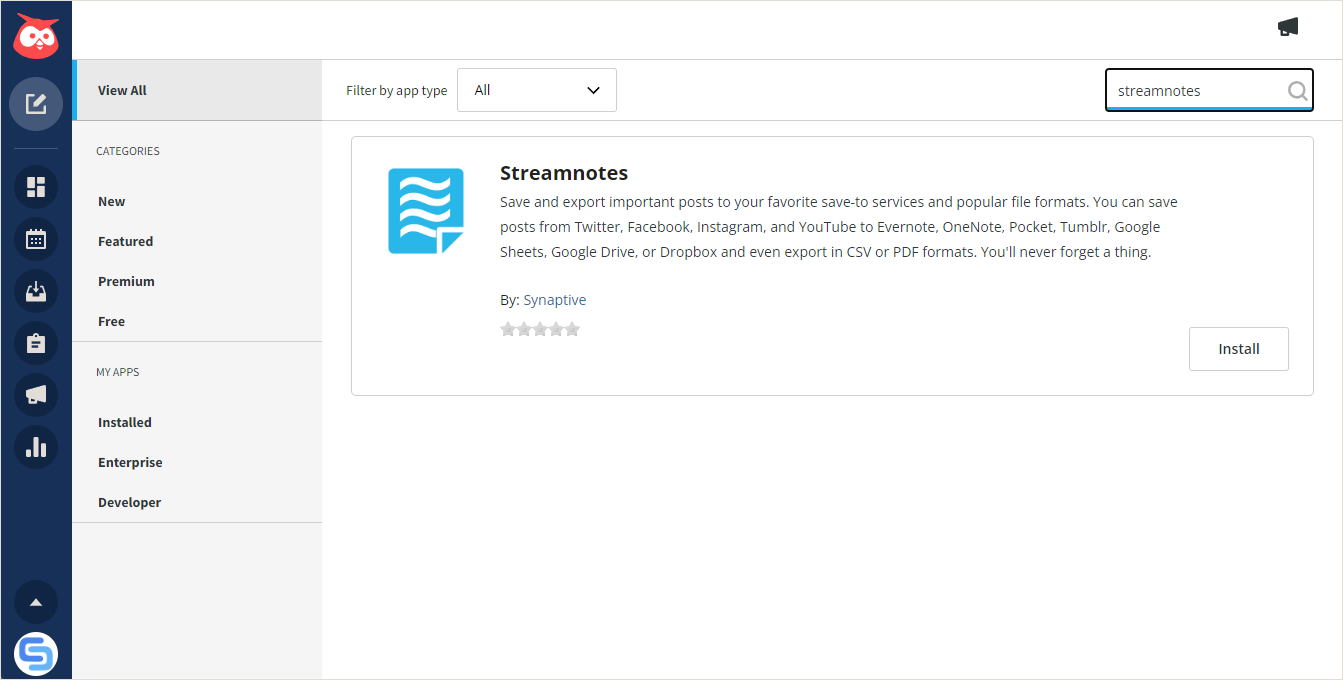 After you have clicked Install, you will be prompted to Finish the process: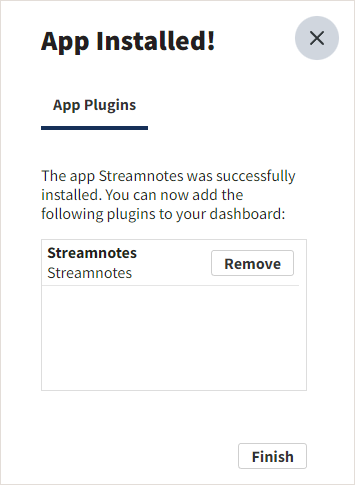 If you are using our Syndicator app, you do not need to install the Streamnotes app. Streamnotes is available without any further actions required on your part. 
2. Using Streamnotes
For native Hootsuite streams, Streamnotes is available from the drop down menu at the bottom of each post: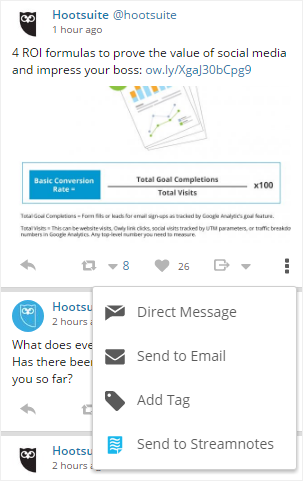 Similarly, Streamnotes is available as a menu option in our Syndicator app:

After you have selected Streamnotes from any of these menus, a popup will be displayed: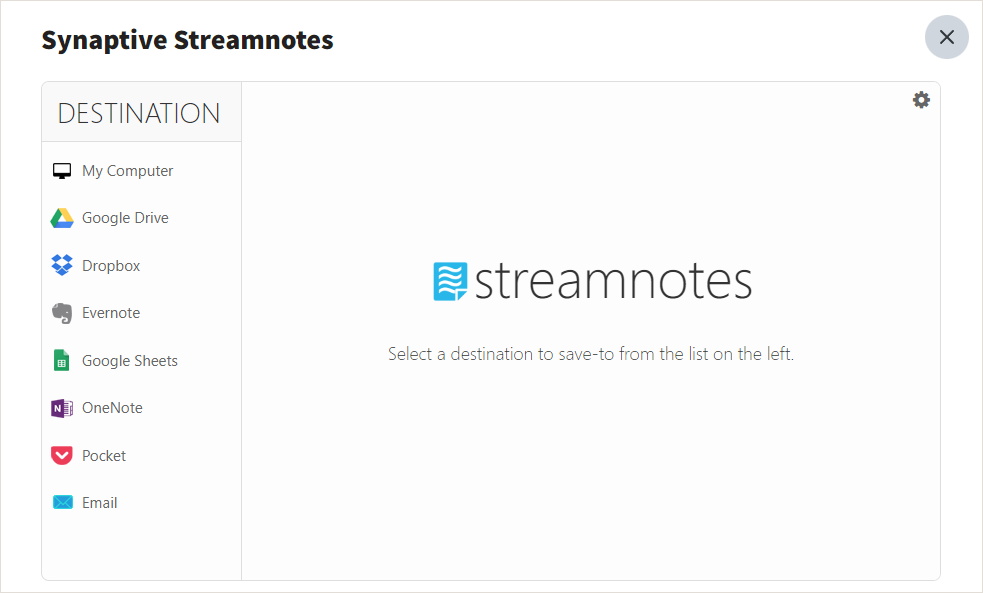 Next, click the destination you want to save the Social Network post to: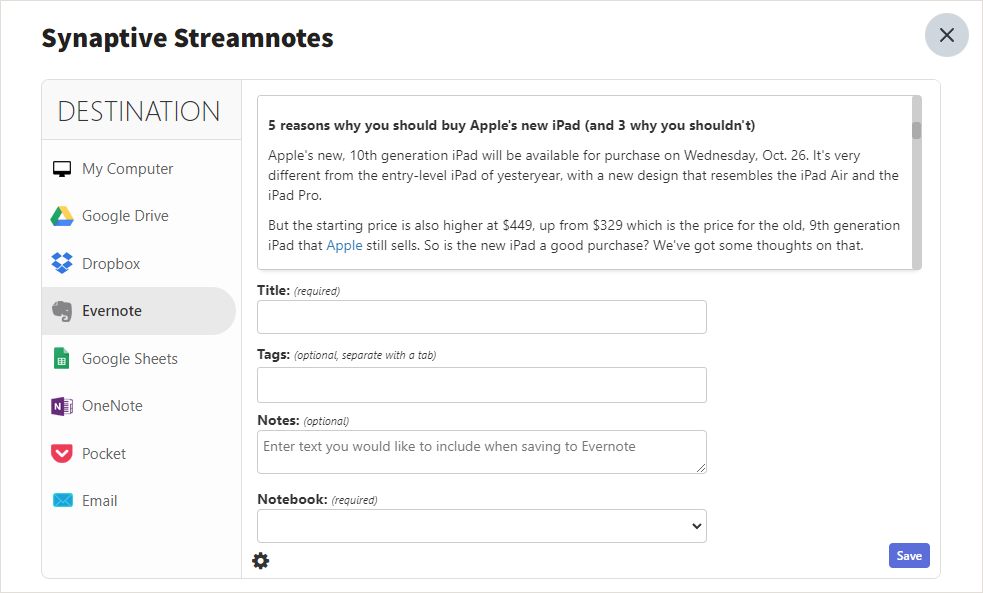 For posts saved to Evernote, you may add a title, tags, notes as well as select a destination Notebook.
For OneNote, you may add a title, notes and select a destination, as well as choose whether to save a screen capture of the web page associated with the post. 
For Pocket, you can select tags to associated with the post.
For Google Sheets, you can add notes if you wish. 
When you're done, click the Save button, and the current item will be saved to the destination you have selected. 
In addition to saving to specific services, you can also save to PDF or CSV files, either locally, or to cloud file services such as Google Drive and Dropbox: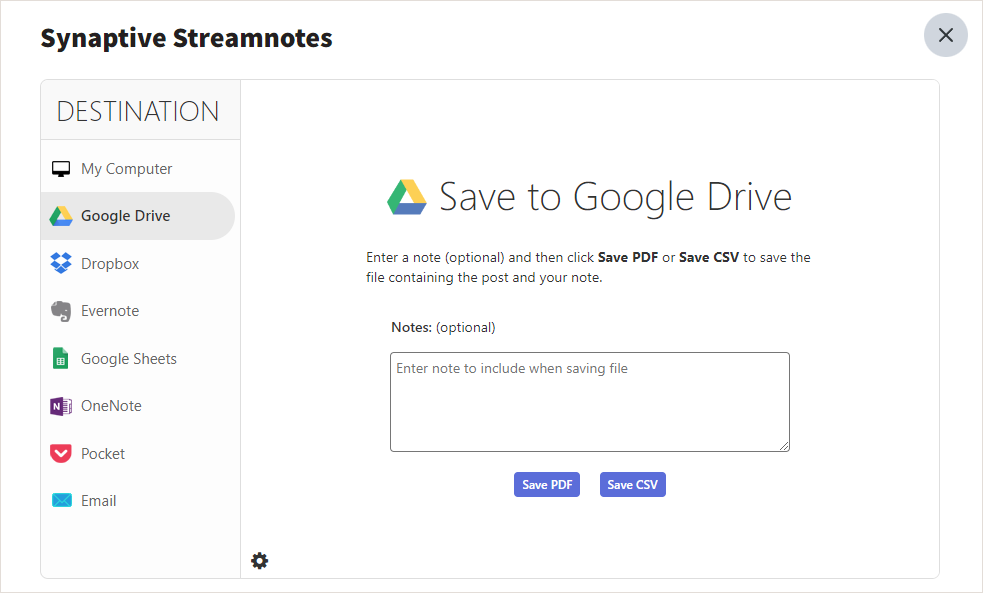 When saving to PDF or CSV files you can also add a note that will be added to the end of the PDF or to a column in the CSV. Once you've added a note (optional), simply click the Save button, and the file will be sent to your web browser or saved to your cloud files.
3. Disconnecting the current account
To disconnect the account you are currently using with one of the save-to services, click on the settings icon in the bottom left, and then select Disconnect current account: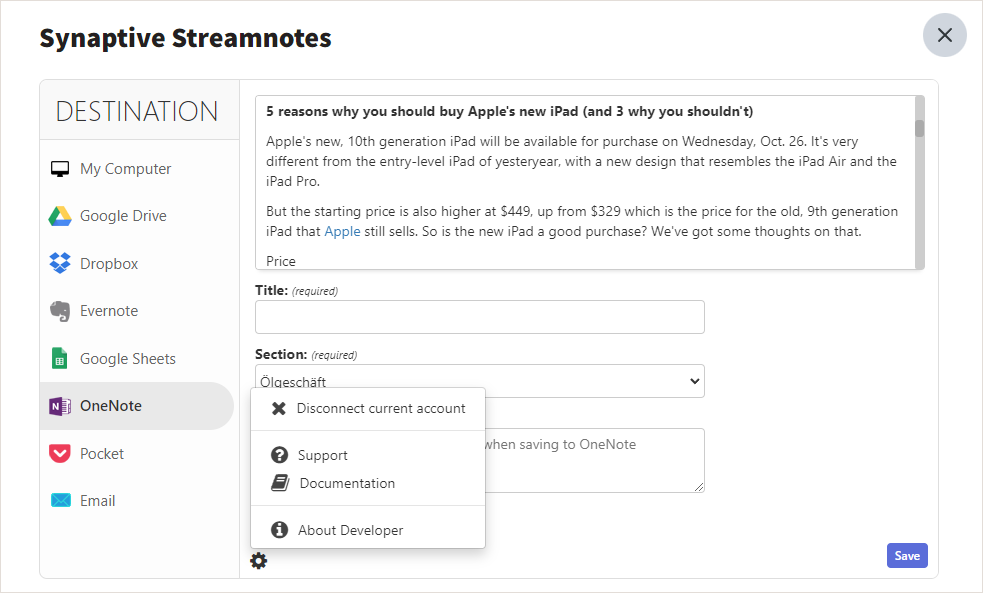 This will only disconnect the account associated with the currently selected save-to service. (eg. Evernote or OneNote, etc.) After you have disconnected, you will be able to re-authorize with a different account if you choose to. 
4. Support
Have any further questions regarding Synaptive Streamnotes? Please submit a support incident on our support site which can be found at: https://www.synaptive.com/contact-us.
Still have questions?
Click the Contact button below, and our support team will be happy to help!
Contact us